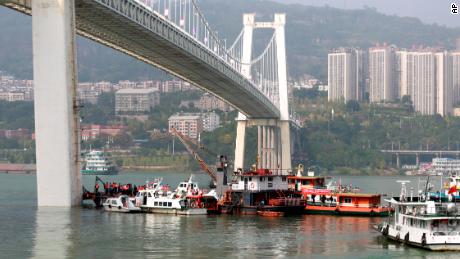 A fight between a bus driver and a passenger who missed her stop caused the bus to plunge off a high bridge into China's Yangtze River, police said Friday. Fifteen people including the driver were on the bus.
Surveillance footage showed the bus veered across the lanes, hit a auto, demolished a section of Yangtze River No 2 bridge's barrier and plunged into the river, where the water is about 70 metres [230 feet] deep.
But the new footage shows the driver was being hit by a passenger and then struck her back.
An eight-second surveillance video released by Chongqing city police on its Weibo social media account shows the two arguing and grappling with each other Sunday morning.
The passenger, only identified as a 48-year-old woman with the surname Liu, was angry at the driver for missing her stop, police said.
A huge rescue operation was mounted with teams of divers and dozens of boats and cranes deployed.
More news: Texans agree to acquire WR Demaryius Thomas from Broncos
Thirteen bodies have been pulled out of the river, but two remain missing.
The driver turned his head to face her several times in the argument.
After the driver refused to stop, Liu hit the driver's head with her cellphone.
The driver then took his right arm off the steering wheel as he tried to defend himself. This seems to be the moment the driver realised he had lost control of his vehicle.
Rescue workers and boats on the site where a public bus plunged into the Yangtze River after colliding with a auto in Chongqing, China on Oct 28, 2018.
The Wanzhou police statement said the behaviour of both the driver and the passenger seriously endangered public safety and violated the law.