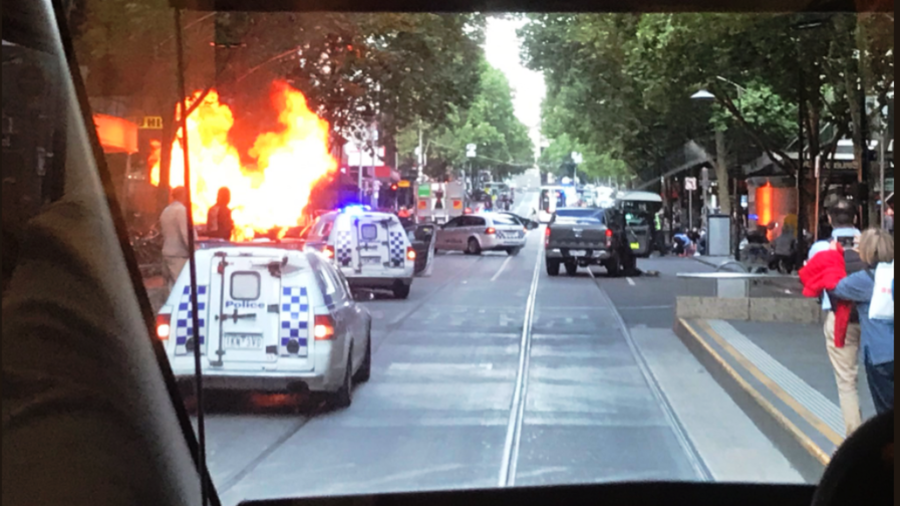 The incident took place at Bourke Street as reported by Victoria Police.
Clayton said police had arrived at Bourke Street, a busy shopping thoroughfare, in response to a auto fire. Other footage showed two stab victims lying on the ground nearby and bleeding.
He has been arrested and taken to hospital in a critical condition, police said.
A man wielding a knife was shot by police.
Clayton confirmed that police officers, clearly seen confronting a man in digital footage of the incident, are "okay".
"The cops were trying to hit him with batons and he wasn't going down", he said.
However, the exact reason for the stabbing and burning of the auto has not been ascertained as of yet.
"Incredible work by police in Melbourne but also bystanders - one using a trolley to try subdue the man", Cyndi Lavrencic said.
The Victoria Police took to Twitter to update on the situation.
"There's been an incident in the CBD near Bourke St", he tweeted.
More news: How will Jeff Sessions' ouster affect the Mueller probe?
Sarah Werkmeister, a witness, told The Herald Sun: "All I saw was the auto on fire, and the police cuffing someone on the ground".
Police shot the man in the chest and he is now in critical condition in hospital.
"Police are not looking for anyone further at this early stage", police said in a statement.
"Three people have been stabbed". The exact circumstances are yet to be determined at this stage.
Friday's attack is a double blow for the city as it coincides with an ongoing the murder trial of 28-year-old James Gargasoulas, who ploughed his vehicle into crowds in the same area in 2017, killing six people. "We will provide further information when it comes to hand", they added.
"I didn't know what was happening there was just so much chaos and screaming".
"Me and the managers ran out and that's when we saw the auto on fire and then we saw the guy on the floor and we wanted to help, there were two blokes helping him out already, he was face down pools of blood around his face", he told AAP.
One witness said a man was stabbed in the face.
The incident comes two days after the trial for Melbourne man James Gargasoulas, who has pleaded not guilty to 33 charges including six counts of murder for a deadly incident on 20 January, 2017, when he allegedly drove a vehicle through pedestrians along Bourke Street mall and killed six people.