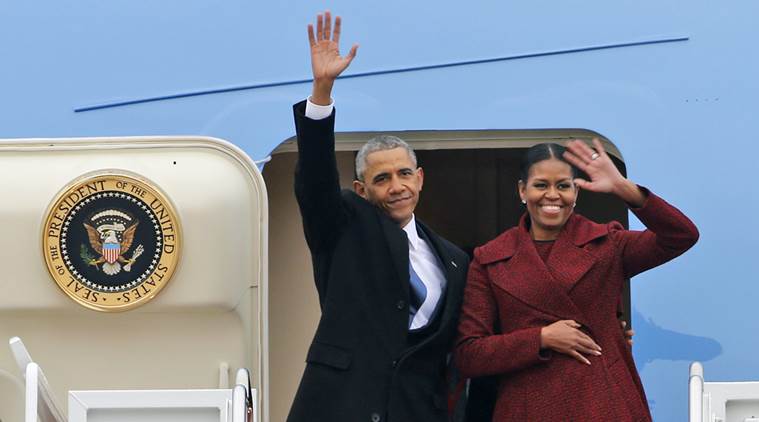 Secretaries claimed Mr Obama was both brilliant and "cute" - although Michelle Obama was sceptical, writing that white people went "bonkers" any time you "put a suit" on a "half-intelligent black man".
"It's fantastic to me that we still have to tell people about the importance of voting", she said. "What I learnt about myself is that my happiness was up to me and I started working out more, I started asking for help and not just from him, from other people".
'We sit in our own pain, thinking that somehow we're broken.
"I realized that as I was 34 and 35", the famously fit Mrs. Obama said in excerpts from an ABC special set to air Sunday.
"I'll never forgive him" for making the country "very unsafe."
They
struggled with infertility
through the years, suffering one miscarriage and conceiving their two daughters -
Malia
, 20, and
Sasha
, 17 - through in-vitro fertilization.
'And I want them to know that Michelle and Barack Obama, who have a phenomenal marriage and who love each other, we work on our marriage. "I like that about him".
During the interview, she also talked about her problems with her husband, Former president, Barack Obama when he kicked off his political campaign.
'And we get help with our marriage when we need it'.
More news: Lion Air Jet in Another Accident, a Week After Deadly Crash
"And that she did a great deal of this while her husband was away serving in the state legislature, leaving her to administer the shots that are a part of that process herself".
"The whole (birther) thing was insane and mean-spirited, of course, its underlying bigotry and xenophobia hardly concealed", she writes, in excerpts of the book published by ABC News and The Washington Post.
Mrs Obama continued: 'But it was also risky, deliberately meant to stir up the wingnuts and kooks.
She said the night she learned he won the presidency, she tried to "block it all out".
You fight fire with fire, and when Trump and his enablers and sycophants go low, we should aim high and kick them right in the balls. She surprised a dance class and told a story of how a former guidance counselor told her that she was not good enough to get into Princeton.
"I think that young people are the future", she said.
Whitney Young Principal, Dr. Joyce Kenner quickly chimed in: "She doesn't work here anymore". But, she says, the burden was placed on the minority students.
This cover image released by Crown shows "Becoming", by Michelle Obama, available on November 13.