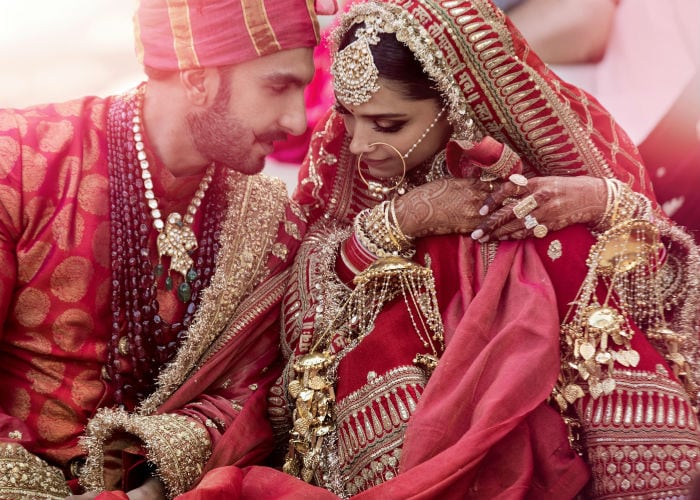 Deepika, 32, and Ranveer, 33, announced in a joint statement last month that their wedding would take place on November 14 and 15.
These photos might be the only glimpse we get of their two-day wedding, as the couple - who have been together for around six years - have been very closed off about their Italian nuptials. They will hold two lavihs receptions.
Although, Deepika's bridal looks are similar in their colour choices - given that she opted to wear red at both ceremonies - the two could not be more different in their style.
Ranveer's stylist, Nitasha Gaurav also took to social media to post a fun detail from the wedding about how Ranveer's father welcomed Deepika to the Bhavnani clan.
More news: Hillary Clinton to seek election in 2020 - Mike Penn
In the best tradition of a celebrity wedding, the stars and their guests were located in resorts tucked high above the lake ringed by mountains while the paparazzi was stationed at a safe distance, managing only grainy images and videos of the ceremony.
Deepika and Ranveer's wedding look finally surfaced after delaying it for over two hours, but the wait for definitely worth it.
"Badhaai Ho" star Ayushmann Khurrana wrote: "Congratulations lovely people @RanveerOfficial @deepikapadukone Welcome to the club you two!"
Taking to Instagram, the Padmavaat actress, 32, got us all in the jelly as she shared one loved-up shot with Ranveer, her solitaire rectangular ring on full display. One on November 21 at the Leela in Bengaluru and the second will be hosted by the Singhs on November 28 at the Grand Hyatt. "#PartnersForLife.wish you both endless growth, fulfilment and happiness, "love is not something you can put into motion, or has a time schedule: #lennon". Stay blessed. Love and a big hug to you both.