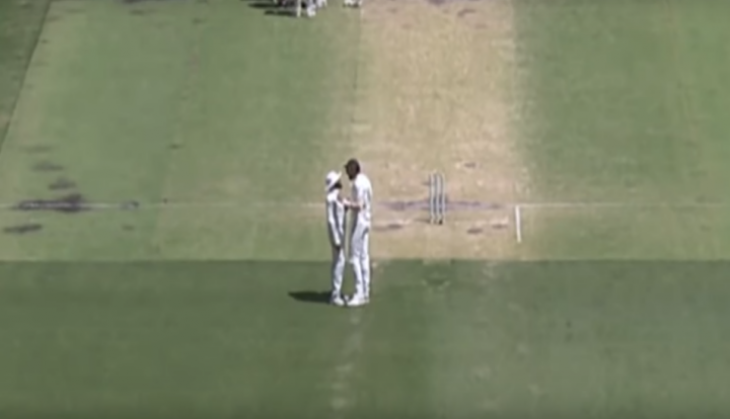 Tim Paine and Virat Kohli have again engaged in a little argy bargy on day 4 of the Perth Test Match this afternoon, exchanging words and "accidentally" chesting up to each other like a pair of pissed boys in Oakley sunnies at a rural 21st. "There's no swearing. keep your cool Virat".
India lost the second Test by 146 runs after Australia wrapped up the tail in the morning session.
Kohli said something which couldn't be picked up by the microphones.
Virat Kohli and Tim Paine came face to face in the second Test between Australia and India in Perth.
"I know he's your captain but you can't seriously like him as a bloke", Paine said. It was as hard Test, both have been tough Tests.
The on-field umpire Chris Gaffaney had to interrupt the two players reminding them that they both are captains of their respective teams.
But the simmering tension is set to flow over to the MCG, especially with the series still up for grabs.
"I enjoy watching him, I always have". I think he brings out the competitive spirit in a lot of people which is great, and I'm sure it was great to watch. Australia, who were made to play catch-up come the second Test, however, bounced back well after the disappointment and seized key moments in the Test to go one-up on their opponents.
More news: Sri Lanka Parliament Demands Sacked PM To Be Reinstated
"We were pretty convinced going in with four fast bowlers, looking at the conditions, and I think they did pretty well". He went a step further and said that Paine was just a stand-in skipper. "Big thanks to my brother, I'm not a very good batter so just trying to play my role".
"It's definitely nothing compared to 2014 to be honest", Kohli said.
The skippers have been involved in an ongoing war of words for the last two days.
Australia had been criticised in recent times for being too nice in the wake of the ball-tampering scandal.
Play lasted just over an hour on Tuesday, with Mitchell Starc (3-46), Pat Cummins (2-25) and Nathan Lyon (3-39) claiming the necessary scalps in a hurry as the hosts bounced back from their heartbreaking first-Test defeat in Adelaide. They were seen sharing words as the players walked off after stumps.
Australia kicked off the fourth day's play with a huge 175 runs lead with left-handed batsman Usman Khawaja and skipper Tim Paine on the crease.
"Tell me one thing".