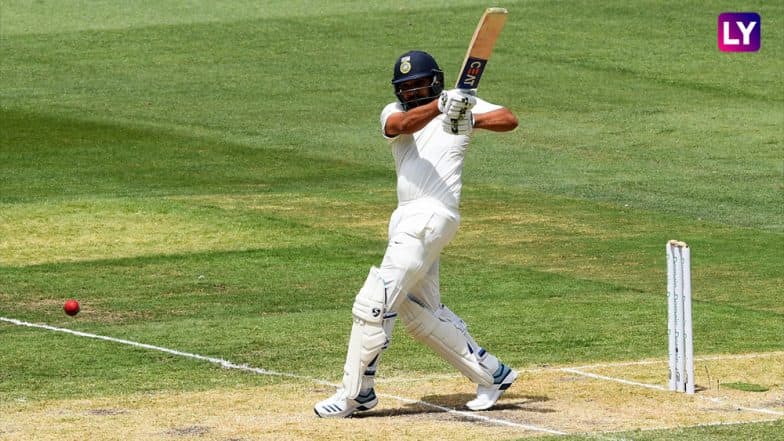 Kohli and Cheteshwar Pujara took few risks and looked remarkably comfortable throughout Wednesday's final session at the MCG, enhancing India's hopes of taking a 2-1 series lead as they hunt a maiden Test series win in Australia. He his now the joint 3rd overall and joint 2nd Indian to achieve the feat. The Indian No. 3, in fact, converted two of his centuries at home against the Aussies into double tons 2013 and 2017 respectively. On the back of Mayank, Kohli, and Pujara, India managed to dominate the Day 1. Late in the Indian innings, Australian paceman Mitchell Starc is unimpressed with Rishabh Pant's running between the wickets.
Marcus Harris copped a thunderous blow to the helmet from Jasprit Bumrah that prompted an extended delay as Australia's team doctor assessed the opener for signs of concussion. India declared their innings at 443-7 after losing Ravindra Jadeja off Hazlewood's delivery.
With Nathan Lyon coming into the attack, Paine chose to take on Rohit with a strategy to unsettle him with some amusing words coming from behind the stumps.
Rohit Sharma finished 63 not out, but was given a life on 15 when substitute fielder Peter Siddle - only on the field for one over - dropped a sitter.
Making matters worse, Ajinkya Rahane was also gifted a life next ball by Travis Head at short-leg; a spinning, dipping, bouncing off-break onto his gloves the delivery that might've caused his undoing.
More news: Williamson proving to be one of a kind at Duke
On a docile, batsman-friendly Melbourne Cricket Ground wicket, India ground their way to 215 for two at stumps on day one with the rock-like Pujara not out 68 and superstar Kohli unbeaten on 47 as the bowlers toiled in hot conditions for little reward.
Rahane then took charge of proceedings and played a breezy knock, not allowing the Australian attack to get on top.
Pujara scored a century in Adelaide and Kohli matched the feat in Perth.
The two batsmen scored quickly in the first hour and kept the scorecard ticking over, before Australia went back to their tactic of cutting runs.
Pat Cummins got both the wickets on what was a tough outing for the bowlers on the first day.