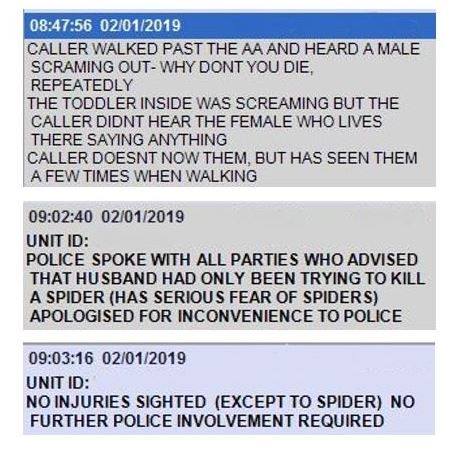 You have to hand it to the passerby who called the cops after hearing a chap yelling "why don't you die?" along with the cries of a toddler.
The man is said to have a "serious fear" of spiders and was trying to kill one inside his home.
The screams, however, belonged to the distressed man - police found him alone at home, scrambling about and knocking down furniture while trying to chase down and neutralize a spider with a can of bug spray.
"Caller walked past the AA and heard a male screaming out "Why don't you die" - repeatedly", the log read. "Caller doesn't now [sic] them, but has seen them a few times when walking", a screenshot of the incident's police log that was initially tweeted out stated.
He sheepishly apologised for the inconvenience.
They added, "No injuries sighted (except to spider)".
More news: Trash, toilet odor build at national parks amid government shutdown
An out-of-hours call from Reuters to the Western Australia state police's administration number went unanswered.
A WA Police spokesperson told Mashable via email that it was "very pleased the incident turned out to be something completely different to what was expected".
The Wanneroo police department in Perth, West Australia, reported the incident in a now-deleted tweet on their Twitter account, according to The Guardian.
The species of spider involved was not revealed.
There had been no recorded deaths involving the Redback since 1955, a year after the antivenin became available.