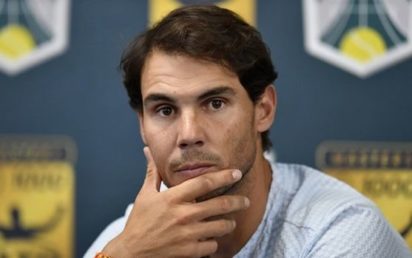 World No. 2 Rafael Nadal withdrew from the Brisbane International on Wednesday after an MRI showed a strain in his left thigh.
The second-ranked Nadal had a bye in the first round and arrived in Australia after withdrawing from an exhibition tournament in Abu Dhabi following one match. "I tried to play, I wanted to play, but recommendations from the doctors (were otherwise)", Nadal said during a press conference.
"I feel better than four days ago".
However, after conferring with his doctors he made a decision to withdraw to ensure he would be fit to play the Australian Open later this month.
Nadal said that he would not play in Brisbane because of a left thigh strain, prompting yet more fears over the 32-year-old's long term future in tennis.
Nadal won the Australian Open in 2009 and would dearly love to add another title on the hardcourts of Melbourne. "And being honest, I feel myself playing well".
More news: Minivan driver slams into New Year's crowd in Tokyo
The 17-time grand slam champion was due to play his opening Brisbane clash on Thursday - his first ATP tournament match since pulling out of the US Open semi-finals in September with an ongoing knee complaint.
"It's a waste to damage my body for one month if I keep playing here", said Nadal, who has spent lengthy periods on the sidelines because of injuries during his career.
"I feel that I can give a good level of tennis, but I can't do my 100 percent". "But I really believe that I will be 100 percent ready for Melbourne", said the Spaniard. "Last year, in my opinion last year, my situation, my previous situation of the Melbourne tournament was much worse than last year".
Rafael Nadal will feature at the Australian Open, without having played any official match to start his 2019 campaign.
"The thing that I don't want to do is suffer more than what I did last year, because if you do (suffer injuries two) years in a row, that mentally kills you", he said.