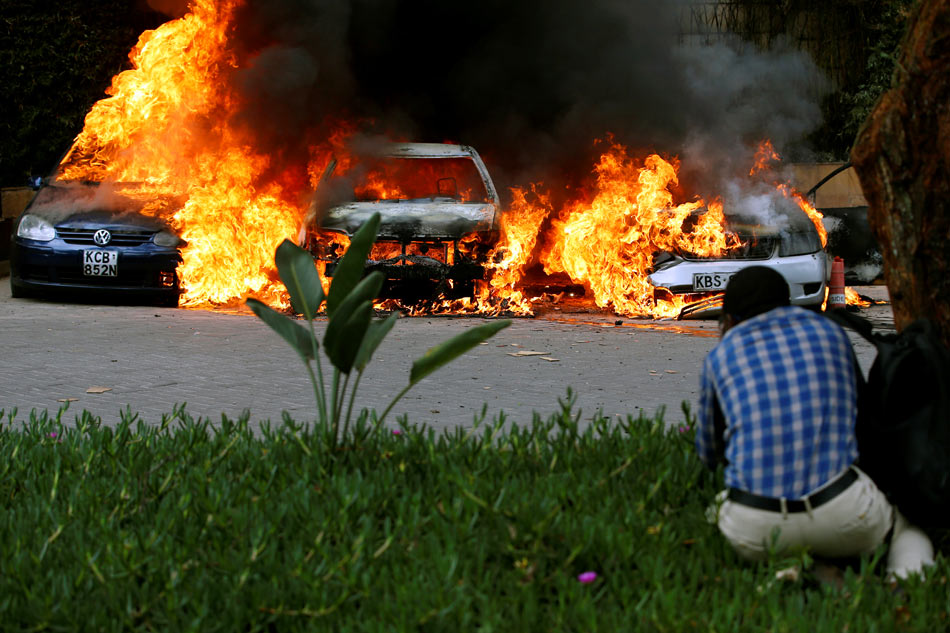 Jason Spindler was among 21 people who were killed on Wednesday when Somali militants opened fire inside a hotel and office complex in Kenya's capital.
Associated Press video from inside the hotel showed Kenyan security officers searching the building and scared workers emerging from hiding while gunfire could be heard.
Kenya's president Uhuru Kenyatta announced the end of the operation on Wednesday, saying: "All the terrorists have been eliminated".
TRT World's Natasha Hussain has more.
Al Shabaab claims its attacks are revenge for Kenyan troops stationed inside Somalia, which has been torn apart by civil war since 1991.
More than 700 civilians had been safely evacuated from the dusitD2 complex, he added, after an attack that echoed a 2013 assault on a Nairobi shopping centre that killed 67 people.
TRT World spoke to journalist Timothy Otieno for more from Nairobi.
While U.S. airstrikes and African Union forces in Somalia have degraded the group's ability to operate, it is still capable of carrying out spectacular acts of violence in retaliation for the Kenyan military's campaign against it.
Thereafter, the terrorists spread throughout the hotel complex, killing as they went.
More news: BCCI CEO Rahul Johri speaks to Hardik Pandya, KL Rahul
Gunshots rang out sporadically as police moved in, trying to rescue survivors and flush out the attackers.
By mid-morning Wednesday, it was still unclear whether the assault was fully contained, or what the final death toll might be. Several cars are ablaze in a parking lot as security forces stream in and people run or are carried from the scene.
Late Tuesday night, about eight hours after the siege began, Interior Minister Fred Matian'i said that all of the buildings affected by the attack had been secured and that security forces were mopping up.
He said "a number of guests suffered serious injuries".
Police found a sad and grisly scene inside one of the restaurants - wounded and dead diners at their tables, slumped over unfinished meals. Other victims included a British citizen, an American, and one victim who is yet to be identified.
A mortuary official told AFP 11 Kenyans and one Briton were known to have died.
The DusitD2 complex, which houses several multi-national offices and a hotel, is located in the leafy Riverside area of Westlands, Nairobi. Out of curiosity I asked my friends to come with me so we could see what's happening. "Gunshots are coming from multiple directions", said Simon Crump, an employee at an worldwide firm who was hiding with his colleagues. Families who went to the Chiromo morgue were told they could not view bodies until a forensic investigation had been performed, provoking grief and anger.
Foreign secretary Jeremy Hunt said: 'Really tragic news from Kenya - my thoughts are with the families and friends who have lost loved ones, including one British citizen.
Chilling CCTV footage broadcast on local media showed four black-clad, heavily armed men calmly entering the luxury complex on Tuesday afternoon.