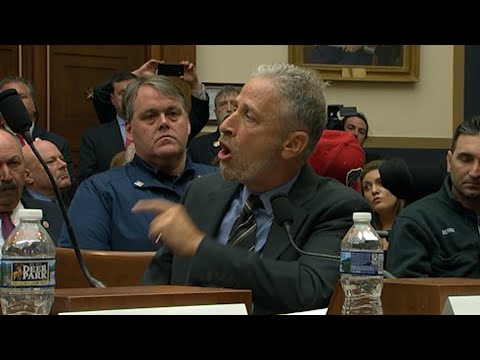 In a fiery and tearful speech in front of a portion of the House Judiciary Committee on Tuesday, the comedian - along with several first responders - urged lawmakers to reauthorize funding for the September 11th Victim Compensation Fund.
Pointing to rows of empty seats at a House Judiciary Committee hearing room, Stewart said "sick and dying" first responders and their families came to Washington for the hearing, only to face a almost deserted dais.
Stewart called this an "embarrassment to the country" and a "stain on this institution", telling those who didn't attend that they should be "ashamed" of themselves.
Jon Stewart has delivered a scathing rebuke of Congress and its handling of benefits for 9/11 first responders and victims, telling United States lawmakers their "shameful" inaction is "an embarrassment to the country".
Later in the hearing, Rep. Steve Cohen, D-Tenn., defended lawmakers' attendance, noting that while some chairs were empty in the hearing, it was because the hearing was held before the committee's Subcommittee on the Constitution, Civil Rights, and Civil Liberties.
Alvarez said he had survived 68 rounds of chemotherapy to fight 9/11-related cancer and would start his next round Wednesday.
More news: Toronto's mayor defends Raptors fans, says cheers after Durant injury 'overstated'
"There is not a person here, there is not an empty chair on that stage, that didn't tweet out, 'Never forget the heroes of 9/11, ' " Stewart said. "Behind me, a filled room of 9/11 first responders, and in front of me, a almost empty Congress. Well, I'm here to make sure that you don't", Alvarez said to a room of loud applause. Advocates say that the program should be extended indefinitely, because many people are continuing to be diagnosed with illnesses tied to the September 11 attacks, including cancer.
The fund was created to provide health care and financial assistance to first responders, volunteers and survivors who are now experiencing subsequent health problems, including cancer and respiratory disease, following the 2001 attacks. It's the one thing they're running out of ... The fund has awarded more than $5 billion in compensation for more than 20,000 claims, but more than 17,000 claims are still being processed. They did their jobs [with] courage, grace, tenacity, humility.
She said the fund only has a little over $2 billion left with more than 21,000 claims and amendments still needing a decision.
Fitzgerald said that it's time for legislators to show that they truly will "never forget" the survivors of the attacks, because many first responders and survivors are facing futures that were shaped by the tragedy. "I can't recall being so moved by testimony as I was today", Johnson said. "If it's any comfort to you all, we know this bill is going to pass with an overwhelming landslide majority of the House, maybe unanimous". "Eighteen years later, do yours", Stewart told Congress.
"We're going to continue to push the issue as Democrats have done from the very beginning", Jeffries said.