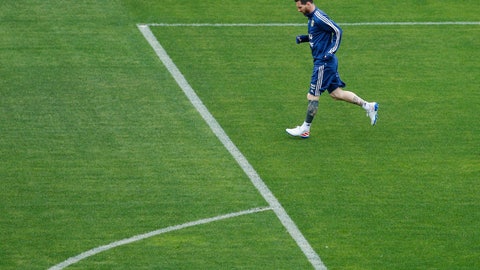 Chile opened up their Copa America with a 4-0 win over Japan, then beat Ecuador 2-1, lost to Uruguay 1-0 in the final group stage game and then beat Colombia 1-0 in the quarterfinals before their 3-0 defeat to Peru in the semifinals. Messi challenged him from behind and Medel reacted angrily, pushing the Argentinian and raising his hands. The two players aggressively bumped chests a number of times before match referee Mauro Diaz de Vivar intervened and immediately flashed red cards for both.
When asked why he was not on the pitch for the ceremony, he said: "Because we don't have to be part of this corruption, this lack of respect towards the whole Copa".
"I think the cup is fixed for Brazil", Messi added.
The No.10 was sent off just before half time in the match against the Chileans after an incident with Gary Medel in which Messi was really the victim.
Messi continued to complain via social media after the match, claiming football hadn't been fair to his team, which he believes was "superior" to Brazil and should have been in the final. "A yellow card would have been enough to put an end to it". We could have done better, but they didn't let us make it to the final.
More news: Tougher for teen to win men's Slam than women, says Federer
Chile threw bodies forward in search of an equaliser, but it was Argentina who went close on 77 minutes as Aguero's close-range finish was saved by Arias.
Confusion ensued, with players from both teams surrounding the referee.
Dybala sent another volley just wide before tempers boiled over as half-time approached when Medel and Messi squared up after chasing a ball going out on the touchline. Argentina still walked away with the 2-1 win, despite Messi's absence.
With Brazil set to face Peru in Sunday's decider, Messi added: "Hopefully, the referees and VAR won't influence it and they'll let Peru compete, but that looks hard to me".